The St. Paul Agricultural Society is pleased to have offered four (4) scholarships to students that have resided in the St. Paul area and have attended a minimum of one (1) year at a High School in St. Paul.
Candidate must be registered full time at a recognized post-secondary institution with priority going to agriculture related studies.
Apprenticeship candidates will be considered on their second year of course work.
For further information, deadlines and application procedures, contact your high school office at (780) 645-4675.
2017 Scholarship Recipients
Laurieanne Lafreniere (left) of the 2016 St. Paul Regional High School Grad Committee presents a cheque to
John Chamberland – 3rd year Parts Technician, Lakeland College;
Mabel Gottenbos (centre) of the St. Paul Ag. Society presents a cheque to
Jamie Kuzma – 1st year Agricultural Management, Olds College;
Ray Suvak (right) Vice-President of the St. Paul Ag Society presents a cheque to
Meagan Wanchuk – 2nd year Agriculture and Bioresources, Animal Science Major, University of Saskatchewan;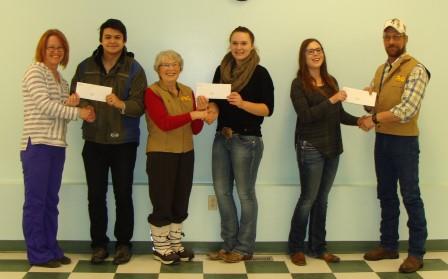 Mabel Gottenbos of the St. Paul AG Society presents a cheque to Sarah McLeod
 – 1st year Equine Science, Western Horsemanship Major, Olds College.