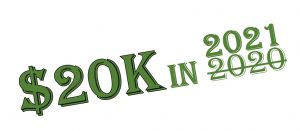 ONLINE ORDER FORM COMING SOON!
The St. Paul Ag Society is holding a cash raffle in Sept 2021!
(Please note: The raffle has been carried over from 2020)
Get your tickets today!
Only $20
for a chance to win $20 000 in 2021
plus 3 subsidiary prizes of $500
Tickets available: Ag office located at 5322 – 48 ave in St. Paul on Thursdays,
MCSNET, St. Paul
B & D Industrial, St. Paul
or from Ag members.
E-transfers can be sent to stpaulagsociety@gmail.com.
$20/ticket. (Please include $1/ticket for shipping & handling)
Include address in email and tickets will be mailed out.
Raffle Rules 2021.
Click here for a POSTER.
Mission
Linking people to the past and present by celebrating our agricultural way of life.
[/col2]
Vision
The St. Paul Agricultural Society is recognized as a great organization thriving in a strong agriculturally focused and supportive community.
5322-48 Ave (South at R.C.M.P Detachment)
PO Box 1203, St. Paul, AB T0A 3A0
Phone: (780) 645-4373 Fax: (780) 645-2989
Email: agsociet@telus.net