Saturday September 3, 2022

Theme: 'Back in the Saddle Again'
Assembly begins 7:00 am
Parade 10:00 am
Parade Registration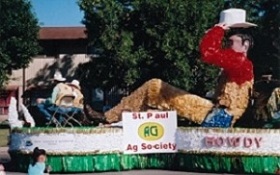 Participants are required to read the parade manual and complete and submit the registration form prior to the parade.
Parade Information
The parade assembles at the Soccer Field parking lots and the Iron Horse Trail.
The Parade Route is 3.2 kms long (2 miles). Plan accordingly when considering your walkers for distributing candy/items.
Horses and horses trailers are asked to unload beside the Iron Horse Trail (53 ave) west of 45th Street in St. Paul. (West of Optigrow).
We kindly ask horse entries to STAY OFF the 'PAVED' WALKING TRAIL adjacent to the recreational trail. The Ag Society thanks you for your cooperation.
NEW FOR 2022
-No judging of floats this year.
-Insurance requirements do not allow for candy to be thrown from parade floats, entries must use WALKERS. This will be strictly enforced.
Parade Sponsors of the Past
Ribbon sponsors
Community Futures St. Paul-Smoky Lake, Grace Gardens Funeral Chapel, Myrnam Insurance, Performance Motorsports, St. Paul Glass, TD Canada Trust,
Friends of the Parade
Associated Medical Centre, Spaid Automotive, Custom Curtains by Carole
Thank you to the above sponsors for the support.